This week's Top 5 Tuesday theme is 'Tropes I want more of.' I don't tend to notice tropes too much, I think because I don't read sci fi and fantasy much and doing a quick google these seem to be the genres that can be more tropey. I do have a few tropes in books that I love though.
Disappearing Friends / Family
When I read or watch thrillers or crime fiction I quite like the plot of the MC's friend or family going missing. In particular I liked The Silkworm by Robert Galbraith, Three Little Lies by Laura Marshall, and Gone Girl by Gillian Flynn (especially how the trope changed in it).
Vampires
I remember after Twilight came out, vampires were everywhere. I didn't enjoy the Twilight series when I tried to read it but I love reading vampire stories when they're well written. My favourite vampire story is Underwood and Flinch by Mike Bennett, although this is a podcast rather than a novel.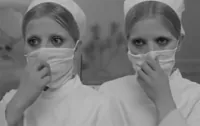 Seeing the character's memories
I really like scenes where we go back into the character's memories. One of my favourite things about Half Blood Prince was all the pensieve scenes about Tom Riddle, and I also love Diane Chamberlain's books where she often looks at how events in the character's life are affecting their lives in the present.
Will they, won't they
I don't read a lot of novels which include a lot of romance but if it's well written I love (no pun intended) romances where you are guessing if the characters will get together or not. I think this comes from reading Ron and Hermione as a kid, but there's no better summer read than a fluffy will they, won't they.
Socially Awkward Characters
Being a socially awkward person myself, I love those characters who are straight to the point and are genuinely bad at small talk. Loads of detectives seem to fall into this trope, my favourite being Cormoran Strike.