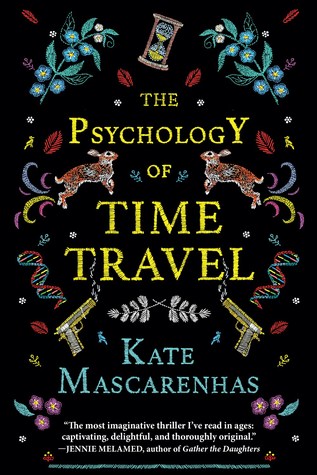 The Psychology of Time Travel – Kate Mascarenhas – 2018 – Mystery & Thriller
Netgalley Summary:
1967: Four female scientists invent a time-travel machine. They are on the cusp of fame: the pioneers who opened the world to new possibilities. But then one of them suffers a breakdown and puts the whole project in peril…
2017: Ruby knows her beloved Granny Bee was a pioneer, but they never talk about the past. Though time travel is now big business, Bee has never been part of it. Then they receive a message from the future – a newspaper clipping reporting the mysterious death of an elderly lady…
2018: When Odette discovered the body she went into shock. Blood everywhere, bullet wounds, flesh. But when the inquest fails to answer any of her questions, Odette is frustrated. Who is this dead woman that haunts her dreams? And why is everyone determined to cover up her murder?
Things I liked about this book:
Firstly, I think the cover of this book is gorgeous. When I was in Waterstones last month I saw it on a table and my eye was immediately drawn, so I'm surprised it doesn't seem to have hit any charts. It looks like an embroidery piece which you understand the relevance of when you read the novel.
I thought the book started really strongly. For the first 20% or so, it was easy to keep track of the story and timelines, and I cared about who the murdered body belonged to and why someone had killed them.
The discrimination against mental health sufferers felt quite real to me. Although it wasn't easy to read about people being discriminated against because of their MH, that sort of thing happens all the time.
There was a lot of diversity with skin colour, MH, ages etc. and I also loved that all 4 of the scientists were female. I think this book's idea was in the right place and it was trying to do something good.
Things I didn't like about this book:
There were too many things to keep track of while I was reading. There are at least 4 main characters I can think of, and the chapters dance between the characters very frequently. I have read novels that have done this successfully but I didn't think any of the "main" characters had an individual enough voice that I could remember who was supposed to have said what, when. I couldn't relate to any of the characters enough because I was trying to keep track of everything.
While I think the book was trying to do good with all its representation, it was hard to remember which characters were gay, POC, MH sufferers… There were too many names to remember with actions that were all too similar to each other.
Adding to the confusion even further (!), the time periods were also difficult to remember. One minute we were in 1960-something, then 2018, 1960s again and then the 80's, yet there was little to separate the time periods.
I gave this book 3/5 on Goodreads. Overall for me it was quite a forgettable book, given that I couldn't keep track of everything that was happening even while I was reading.
I was given an ARC of this book by Netgalley and Head of Zeus in return for an honest review.