I was searching for a tag to do for Halloween, and I found this really old tag on The Sassy Book Geek's blog (check them out here). It was originally created by Book Adventures, but that blog no longer seems to exist.
1.) Favourite Scary (Must Read) For Halloween?
I haven't found any books that truly terrified me, but my favourite Halloween read is The Shining. It's such a classic, and the film is great too.
2.) Scariest Book Cover?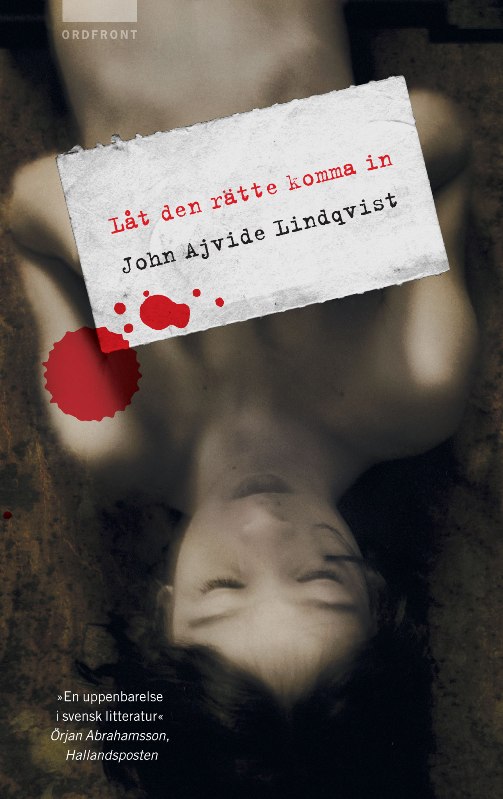 I think this cover for Let the Right One In is quite creepy. I have yet to read the book, but the dead vampire-girl is freaky.
3.) If You Could Go Trick-or-Treating With Any Author, Who Would You Pick?
I think I'd have to choose Stephen King. He could tell me creepy stories as we went around asking strangers for sweets!
4.) If You Could Dress Up As Any Bookish Character For Halloween, Who Would You Be?
Probably Bellatrix Lestrange – I don't read too many books outside of contemporary, so unless I'm going to dress in jeans and a t-shirt it would have to be a Harry Potter character.
5.) If You Could Find Anything (From Any Book) In Your Trick-or-Treat Stash, What Would You Hope To Find?
Could I request the invisibility cloak?
6.) In What Fictional World Would You Like To Go Trick-or-Treating?
It's not a book, but I think the neighbourhood in Edward Scissorhands would be fun to trick-or-treat in. It reminds me of quintessential America so I bet they go all out for the season.
7.) What Book Villain Would You Not Like To Meet Alone In A Dark Alley On Halloween?
Pennywise from It. I'm not sure if he counts as a villain, but it's the scariest film I've seen in a long time, so I wouldn't want to meet him.
8.) Would You Rather Dress Up As A Vampire, Zombie, Werewolf, or Shadowhunter?
Probably a zombie. I don't want to wear fake teeth, and I had to google what a shadowhunter was (sorry!)
9.) Pick A Candy (Just One) From Harry Potter That You Would Love To Find In Your Stash?
I'd love to try some jelly beans. I know there are loads of disgusting flavours, but I think it would be fun to try the actual beans (not the ones they sell at inflated prices in tourist shops!)
10.) What Is Your Favourite Halloween Candy?
I don't think we have specific sweets in the UK for Halloween, it's mostly just the normal brands doing Halloween branded versions of their usual products, but I've recently seen Smarties Scaries which have caught my eye in the supermarket even though they're just orange and brown smarties!