Hi! A few weeks ago I was tagged by Crystal to do this tag – the "I should have read that" tag. Being an avid reader, there are always so many books to get to, and I love this tag because so many are based on what you have already read.
A BOOK THAT A FRIEND IS ALWAYS TELLING YOU TO READ
None of my friends really read, but I have added so many books to my TBR because of Booktube. I'm hearing a lot about Ghost Wall by Sarah Moss because it's on the Women's Prize longlist, and as it's set in the North East I really should read it.
A BOOK THAT'S BEEN ON YOUR TBR FOREVER, YET YOU STILL HAVEN'T PICKED IT UP
The oldest book on my Goodreads TBR is It by Stephen King. It's been on there since I saw the film in September 2017, but it's well over 1000 pages. That's the longest book I've ever read, so it's a big commitment!
A BOOK IN A SERIES YOU STARTED BUT HAVEN'T GOTTEN ROUND TO FINISHING YET
Wundersmithby Jessica Townsend – I only read Nevermoor last month so I haven't had much time, but I think it's the only sequel on my 100-book Goodreads TBR.
A CLASSIC YOU'VE ALWAYS LIKED THE SOUND OF, BUT NEVER ACTUALLY READ
I don't often read classics as I don't like literary language styles, but I'd like to read a horror classic such as Frankenstein or Dracula as at least the subject matter would keep me more interested.
A POPULAR BOOK IT SEEMS EVERYONE BUT YOU HAS READ
The Cruel Prince was on everyone's blog last year, but as I don't really read fantasy I've never bothered to read it. The cover is so beautiful though.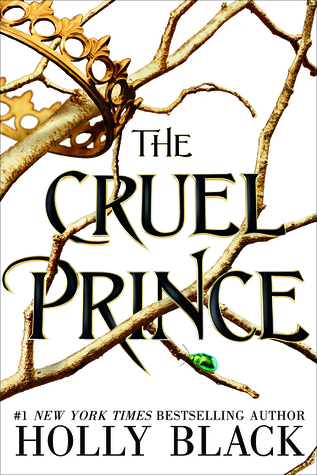 A BOOK THAT INSPIRED A FILM/TV ADAPTATION THAT YOU LOVE, BUT JUST HAVEN'T READ YET
My Sister's Keeper is a film that I really admire, particularly the parts with Kate and her mum in the hospital. I know the book is very different to the film, but I still want to get round to reading it. I just hope it has the same emotional impact.
A BOOK YOU SEE ALL OVER INSTAGRAM BUT HAVEN'T PICKED UP
I don't really read books that I only see on Bookstagram, I much prefer to listen to booktube, but cheeky promo – my IG is @siriusscruffy. Come over and say hi!
I TAG: