Happy National Kissing Day! A perfect day to give your partner (or pet in my case) a big smooch, but not until you read about my favourite kisses from TV, films and books. Let me know what your favourite fictional kiss is!
Films
500 days of Summer – This is one of my favourite kisses just because Zooey Deschanel is so cute, she's my definition of the girl next door. Plus, who wouldn't want a bit of photocopier kissing to brighten up the working day?
Brokeback Mountain – Oh my god, this movie breaks my heart. I just adore Jack and Ennis' love for each other, even when there is so much homophobia surrounding them, and the shots of the American cowboy country are so well crafted. But the first kiss when they see each other again is my favourite part of this movie, you can just feel the love between them.
We're the Millers – From a heartbreaking kiss to a hilarious one. The first time I watched We're the Millers was with my family, and this scene of the boy practising kissing with the people who are posing as his mam and sister are hilarious but also toe-curling.
Lady and the Tramp – If you've read my blog for any length of time you will know how much I love dogs. So what could be cuter than 2 dogs accidentally-on-purpose kissing over a bowl of spaghetti.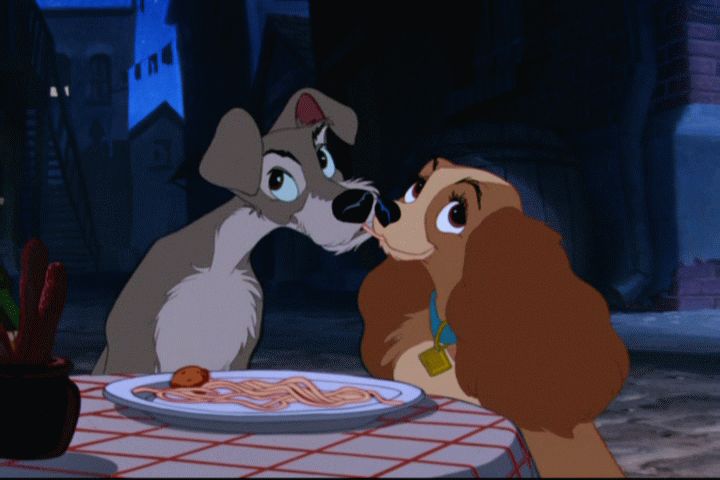 Clueless – I know some people find it a bit icky, but if you ignore the ex-step siblings relationship, Cher and Josh have such a sweet kiss. I love the way that Josh is so coy around Cher, yet also has that joking side with her that tells you they have a good friendship.
TV
Ross and Rachel – Friends. The Ross/Rachel storyline feels like it defines 90s TV to me. They were such an iconic couple that even though I think Monica and Chandler are funnier together, it's Ross and Rachel who are the sweet couple.
Christian and Syed – Eastenders. This was quite a groundbreaking story for Eastenders. I was such a big fan of the show when this story was airing (I can't believe it's almost 10 years) because we hadn't had a gay character for a while, until flamboyant Christian came along. Then Masood, whose supposed to be this really traditional muslim character engaged to be married falls in love with Christian instead. I loved all the drama!
Books
Ron and Hermione – Harry Potter. The building tension between Ron and Hermione, especially during the final few books, was one of my favourite aspects of the series when I read it for the first time. I loved the kiss because it showed how Ron had matured into thinking about people beyond his obvious friends and family, but also Hermione's growing ability to let go and just do what she wanted.
Ginny and Harry – Harry Potter. I'm including 2 Harry Potter first kisses on this list, and I'm not sorry! I don't like the relationship in the films but I remember reading HBP for the first time as a 12 year old and loving the first kiss between them after Gryffindor win the cup. Book!Ginny is one of my favourite females in fiction, she's so strong and sassy.
Liesel and Rudy – The Book Thief. This book is so beautiful, and the way that both of these characters considers kissing each other at poignant moments in the story until the final kiss is heartbreaking.