This month I have decided to start the My TBR meme as hosted by Michelle at Because Reading. Basically I will show you guys 3 posts off my TBR and ask you which one I should read. Please vote in the poll below which book you think sounds most interesting and at the end of the month I will review the book which got the most votes!
This month's picks are:
The Miniaturist – Jessie Burton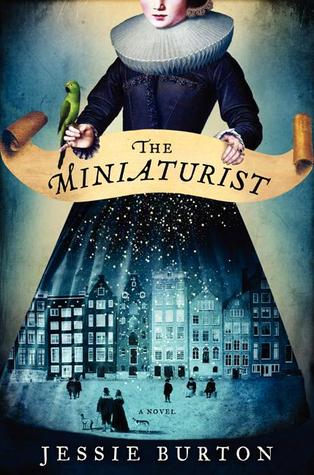 Goodreads Summary:
On a brisk autumn day in 1686, eighteen-year-old Nella Oortman arrives in Amsterdam to begin a new life as the wife of illustrious merchant trader Johannes Brandt. But her new home, while splendorous, is not welcoming. Johannes is kind yet distant, always locked in his study or at his warehouse office–leaving Nella alone with his sister, the sharp-tongued and forbidding Marin.
But Nella's world changes when Johannes presents her with an extraordinary wedding gift: a cabinet-sized replica of their home. To furnish her gift, Nella engages the services of a miniaturist–an elusive and enigmatic artist whose tiny creations mirror their real-life counterparts in eerie and unexpected ways . . .
Johannes' gift helps Nella to pierce the closed world of the Brandt household. But as she uncovers its unusual secrets, she begins to understand–and fear–the escalating dangers that await them all. In this repressively pious society where gold is worshipped second only to God, to be different is a threat to the moral fabric of society, and not even a man as rich as Johannes is safe. Only one person seems to see the fate that awaits them. Is the miniaturist the key to their salvation . . . or the architect of their destruction?
Us – David Nicholls
Goodreads Summary:
Douglas Petersen may be mild-mannered, but behind his reserve lies a sense of humor that, against all odds, seduces beautiful Connie into a second date and eventually into marriage. Now, almost three decades after their relationship first blossomed in London, they live more or less happily in the suburbs with their moody seventeen-year-old son, Albie; then Connie tells him she thinks she wants a divorce.
The timing couldn't be worse. Hoping to encourage her son's artistic interests, Connie has planned a month-long tour of European capitals, a chance to experience the world's greatest works of art as a family, and she can't bring herself to cancel. And maybe going ahead with the original plan is for the best anyway. Douglas is privately convinced that this landmark trip will rekindle the romance in the marriage and might even help him bond with Albie.
Narrated from Douglas's endearingly honest, slyly witty, and at times achingly optimistic point of view, Us is the story of a man trying to rescue his relationship with the woman he loves and learning how to get closer to a son who's always felt like a stranger.
Sofia Khan is not obliges – Ayisha Malik
Goodreads Summary:
'Brilliant idea! Excellent! Muslim dating? Well, I had no idea you were allowed to date.' Then he leaned towards me and looked at me sympathetically. 'Are your parents quite disappointed?'
Unlucky in love once again after her possible-marriage-partner-to-be proves a little too close to his parents, Sofia Khan is ready to renounce men for good. Or at least she was, until her boss persuades her to write a tell-all expose about the Muslim dating scene.
So, which book do you think I should read? Leave a comment with your choice.